Epic win for Will in Matilda his 4500 class Jeep Wrangler at AWDC's Driven to the Edge event 2016!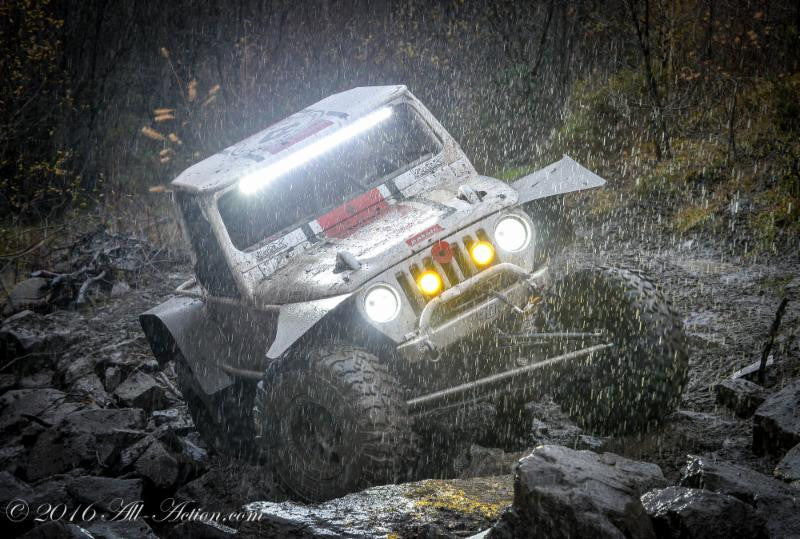 "An awesome test of man, team and machine! Snow trying to blind you at 60mph through dank welsh forests! Frightening, cold and exhilerating....."
There's something about the trip to Wales. No matter what the time of year it always starts raining as soon as you cross the border (in our case the Severn Road Bridge) from England into Wales. November 2016 was no different.....
 
We arrived late on the Friday night after work at Walters Arena in Wales. Walters Arena is one of the largest ohv areas in the Uk with some 2500 acres of free ground. It has laid host to several King of the Valley's and King of Wales races, with its fast cat1 tracks and infamous rocky drainage areas we were sure that the AWDC's driven to the Edge Season finale was goind to be a pearler.
Having passed scruitineering with our massive mudflaps on saturday morning I went about the last checks to the car. I'd had the car back in the UK for about a month and having raced furiously at ULTRA4 Europe King of Britain where we placed 6th in class after some teething issues with the new engine, I knew that the car (Matilda) was quick, having overtaken most of the class in front of us at KOB when the car was running - But how would she fayre in this slightly different format?? George and I had worked through the problems back at home and made some adjustments and I hoped that we could finally stretch our legs and proove ourselves.
My co-driver for Driven to the Edge (DTTE) was Ed Webber, one of our ACE Racing team that was part of our 7th place effort at Mod class KOH 2016. Ed is reknown across europe as one of the best winchmen around and I savoured working with him at this event. DTTE runs a short course of about 7-8 miles where drivers can drive as fast as they wish. Along the route there are 3 optional winch sections with orienteering punches placed in randomly difficult places to get to. You could opt to miss 1,2 or all three of the sections, but in doing so receive a 30 minute penalty.... With a 60minute DNF time it was going to be an interesting gamble with cars that opted to bypass all winch sections needing to drive the course sub 30 mins to get a time that counted!
With the butterflys churning in my stomach, we finally got off the startline and started clipping away at the mileage. Saturday morning was cold wet and darkish! Our VisionX lighting was supreme in the  Welsh dirt and myre. Soon enough we were at the first winch point and saw a backlog of 5 cars or more. Ed and I made the decision there and then,  Lap 1 race the car, winch sections later when the attrition rate had kicked in..Fingers crossed it wasn't us!
 
I can't tell you how much I love the new engine in the car! I smile like a small child everytime I start it up! Pier, Germano, Nicola and Super Mario at ACE Offroad have done an awesome job mating the 5.3 Chevy V8 to the Cherokee AW4 and the cumulation of the Ruffstuff Axle housings, Yukon Gear & Axle drivetrain, Pakelo Lubricants,  Pitbull Rocker tires, Raceline Wheels, Tireballs, Fox shocks were now beginning to pay off. We were flying along the welsh tracks. By now it had started snowing! Flying along loosely in control at 60mph whilst snow is trying to drill you a new eyeball is a new one one me, frightening, cold and exhilarating! We pushed hard and came in 2nd car in having started 9th!
About halfway round the course there was a cheeky little rockpile that was as slippery as an eel. I'd seen this rock step before at previous ULTRA4 Europe events and never had the strength of drive train or gumption to give it a load of right foot and just drive straight up it.
Having had some time to test the car in Italy where I was told by Il Capo (Pier) that I needed to drive with more momentum and attack the rocks, I flicked our D&G 9" Chromoly front air locker in, dropped Matilda in first low box and did just that! There were plenty of cars that had to winch up that section, we overtook King of Britain 2nd place 4500 class team Moose Offroad who were doing just that! It was awesome to have such driveability from the car, and having witnessed first hand at KOH the same drive train, I knew we were good on the smaller slippery welsh rock.
The Pibull Rockers have been a welcome addition this season and they were really prooving their worth on European soil. Fast on the forest tracks and as grippy as a grippy thing on the rocks.
We were quite enjoying just driving the car fast and had heard nightmare stories about the difficulty of the winch sections. However a cursory glance at the standings through out the day showed that Nick Bolt and Richard Nicholson, ULTRA4 Europe EMC and King of Britain 4500 class winners repectively were getting further ahead by doing the winch stages AND driving fast. Both seasoned drivers, I've been reading about them for years, it seemed their experience was paying off... With 4 laps to do per day Ed and I elected to do the 3rd lap and the winch sections. we posted a very respectable 43mins. With a 28 min lap, 24 min lap and another 28 min lap, times were tight at the close of play with us in 3rd, 3 mins from 1st!
 
I'd love to say we woke up to hot sunny Sunday morning, however, there was frost on the ground and it had snowed heavily on the hills. It was all to play for in class and I was eager to get going. At King of Britain we found we were chewing through brake pads. As a precaution I swapped out the rears and hoped that would be enough to get us through the day. So far it seemed that the work George and I had done was holding up.
 
Conditions were minging as I put on yet more thermal clothing!
We'd elected to try to get some winch sections in on day two to make up the three minutes. We were lapping at least 2 minutes faster than Nick on his flying lap, but he had been doing some winch sections along the way which seemed to be penalised less. The first stage we revisited was properly chewed up. The Pitbull Rockers were brilliant in the sticky Welsh mud as we achieved punch after punch. We had to deploy our Gigglepin winch and Goodwinch Bowrope  & Damar strops several times to get up the steep banks that the organisers had set out. That thing is fantastic, it will pull the car up vertical the same speed Ed can run on the flat. Totally dependable, and crikey did we need it!
 
It seemed to be the lap of doom, we lost a belt which we replaced, then coming up to the start/finish area I spotted a photographer sat next to a double up. For some unknow reason the poser in me came out and I gave it extra beans for a good shot, only to promptly stuff the front end of the car into a tree and break the tie rod end. A DNF for that lap.
It transpired that the course would be open for a 5th final lap and having made a repair to our steering thanks to Paul Dunn (another 4500 Ultra4 class competitor) I was chomping at the bit to get going. The light was drawing in as we were allowed to get going. I knew this would be make or break between us placing in the top 3 or not in class. We made it round in 24mins 50secs not far off our best time of the weekend of 24mins 29 which was 1 second behind one of the fastest Ultra4 unlimited class drivers in Europe....not bad for a little Jeep!!!
As we packed up camp, we awited the provisional results. I hoped we were in with a chance. The event was phenominal with everything thrown at you, an awesome test of man, team and machine!
 
It transpired through our determination to repair the car and keep going that we had won our class and were 6th overall from 26 entries. I can't tell you how proud i am of that achievement, however they say you are only as good as your last result therefore we've got to do it again to proove its no fluke!
 
Thankyou for all of your support! Will, George & Ed. ACE Racing
Huge thanks to our marketing partners throughout 2016
---